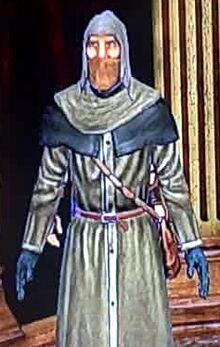 Drago is one of the city of Venice is many Gondoliers, apparently a pretty important one in their order.
Scarlett will first meet Drago when she's at the end of her rope, literally. His gondola will be beside The Claw when Scarlett is trying to make her escape (or, maybe she's searching for a way into the throne room.) He's waiting at the end of the rope dangling invitingly from a grappling hook on the middeck gunwall. And he'll have a proposition (Quests) for Scarlett, an offer she can't refuse.
After their adventures, Drago will have the Gondoliers provide free transportation around Venice for Scarlett. This will make her movement about the ever-expanding city much quicker, and also give her access to a couple of island estates she may want to visit, later.