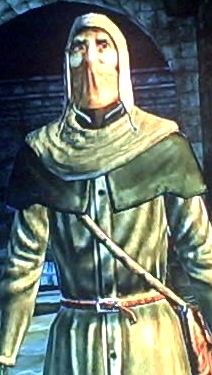 Edmundo claims to be a member of the Net of the Mask (though Scarlett will not have heard of that guild, yet, when she first meets him; and, his garb is more typical of a Gondolier.) Whatever, he is most certainly a student of necromancy.
Scarlett will probably meet Edmundo as a prisoner of the Assassins in the Water Gateway. He's been locked in a room behind a sturdy wooden door right beside the gate Scarlett uses to enter the area. (She will need to collect a heavy weapon in order to break down the door, such as from the Dervish Elite standing guard down the corridor.)
Once they meet (assuming they meet, Scarlett could miss the hint that she should knock down that door), Edmundo will offer to teach Scarlett new Mental Skills. In fact, he will probably be the first such trainer in Mental Skills she has encountered. If she has the Skill Points, a necromantic spell or two might be useful against the Assassins she is about to face in the Water Gateway.
Edmundo can teach Scarlett the Raven's Wrath and Raven's Eye Mental Skills.
Edmundo can be found, initially as a prisoner, behind the first door to the left after
Scarlett
enters the
Water Gateway
. She will need to break down the door to reach him. He will remain there, ready to teach new skills, until
Scarlett
has found her way into the
Outer City
.
none
Community content is available under
CC-BY-SA
unless otherwise noted.