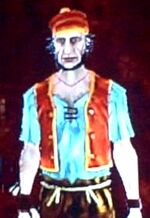 Ruben is one of the fine citizens of Venice who has a little trouble controlling his intake of beer. When met, he will almost always be intoxicated.
Scarlett might meet Ruben in the Outer City, when he is being pestered by Lectors in the Trading Center.
Scarlett may also meet a drunken Ruben in the Harbor, where he is offering clues to a "fabulous treasure". (It appears Ruben's little story, delivered in slurred speech, is describing the skeleton in the Ivy Creek woods near the Forest Hut back in San Pasquale, whose spirit can give Scarlett the "Legendary Treasure Map".) It's not worth the price he's demanding.
Note: Ruben shares a resemblance and fashion sense to several other characters in Venetica, including Rufus the merchant and Phobos the smuggler.