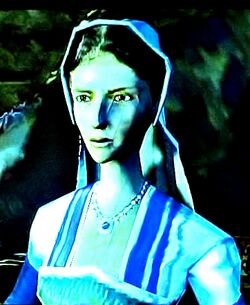 Sara is a young woman, one of two sibling rivals to inherit a luxurious island villa in Venice.
Sara's brother hires some Assassins to kidnap her and hold her for ransom. Sara's lover, the poor young Callisto, will ask Scarlett's help in ransoming his beloved.
(Sara's name it is never stated explicitly. It's inferred from the fact that her new home will be described as "Sara's Villa" when Scarlett visits it. I've also seen her called "Lady Yasmin" elsewhere.)
Heir to the Mansion - Rescue an heiress from Assassins in the Inner City Catacombs.