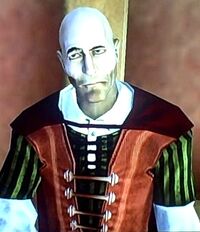 Join the Hooded Wings guild by performing an initiation test.
Scarlett should visit the Hooded Wings guildhall. (Click on map to enlarge.)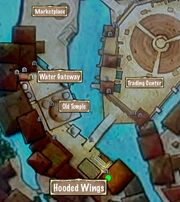 Upstairs, on the balcony overlooking the guildhall entrance, Scarlett should speak to Master Deimos, who is apparently head of the guild. After asking him about working for the Hooded Wings, she can ask to join the guild. Master Deimos will then ask Scarlett to perform an initiation service for the guild.
This quest is mandatory if Scarlett chooses to join the Hooded Wings guild, and is not available if she joins a different guild first.
Scarlett is told to go to the basement and find Grimm, who is apparently the guilds coordinator of deliveries. He will give her her task.
Prerequisites
Edit
none
Return back down the stairs to the main hall, and take the side door to the southwest (to the left coming down the balcony stairs, to the right when entering the exterior door). This will take Scarlett to the Outer City Catacombs where she will find Grimm standing in the darkness to the right.
Speak to Grimm. He will give Scarlett the Earn the Wings quest as the initiation test.
Scarlett should complete the Earn the Wings quest by delivering the package and then return to Master Deimos (not Grimm) to claim the reward and the membership badge for the Hooded Wings.
Adds 200 to Scarlett's Experience, plus the membership badge of the Hooded Wings. No change to Reputation.
Earn the Wings - Scarlett must deliver a letter to someone in the rooftops of the Outer City to prove her abilities. This is a subordinate quest that must be completed as part of "The Hooded Wings" quest.