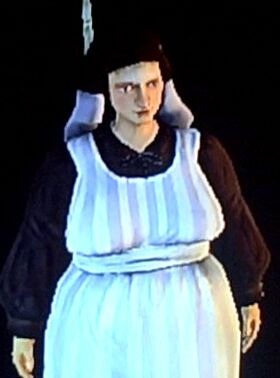 Lea, a resident of the Arsenal District asks Scarlett to help find her husband, Joseph.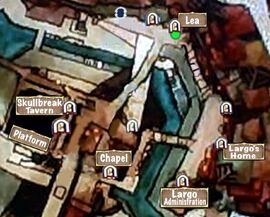 Scarlett should enter Lea's home on one of the residential platforms in the upper levels of the Arsenal District and speak with her. Lea will then explain her problem and asked Scarlett to help. (Click on the map to enlarge it.)
Prerequisites
Edit
none
Lea wants to know where her husband, Joseph, is. He is supposed to be at The Doctor's office down at the lower level, but he has been gone a long time. Worried, Lea asks Scarlett to see if Joseph is all right.
After getting the quest, Scarlett should go to The Doctor's office down in the main level of the Arsenal District (1) on Shade Street. The Doctor, Gregorius, will tell Scarlett that Joseph isn't there, and suggest that she check in the Ambrosial Lotus, instead. (Click on the map to enlarge it.)
To get to the Ambrosial Lotus (2), a brothel, Scarlett should go to the base of the stairs at the main level of the lower Arsenal District (same level as the Doctor, just across the bridge.) There, sitting at a table on a raised box seat to the right, she will find Joseph. Scarlett should speak to him, and he will beg Scarlett not to tell his wife where she found him.
Scarlett should return to Lea at her home. She will have a choice of whether to tell Lea the truth, or lie and cover for Joseph. Either story completes the quest.
Adds 300 points to Scarlett's Experience. (No change to her Reputation.)
Depending on whether Scarlett lies to Lea about where Joseph really was, Lea will either give Scarlett the weapon she was going to use to kill her husband, or the locket he had given her.